CheekyLovers.com not only has a stupid name, but the site itself just doesn't look very promising. Instead of being a solid site full of a lot of opportunities, it mostly comes off as really cliche and over-sexed, which is what will drive more women away than anything. The idea that you're going to get a date on this site is a joke at best, and that's because women just aren't going to join a site that makes them feel disrespected.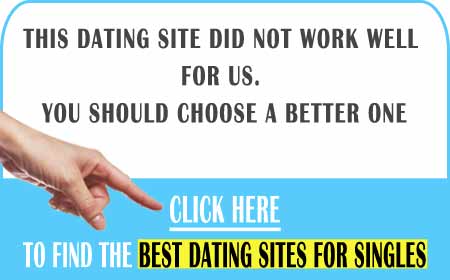 This is a site that just needs to take the time to tune down the amount of pornographic images that it's got posted up and all over the site. Women aren't going to be interested in coming here for dates, or even hookups, and that's because they will feel way too objectified. That's going to turn them off, and it's going to make them want to go elsewhere to a site that treats them in a way classier manner. Honestly, we can't blame them, considering how this site just doesn't take the time to even try to promote an intimate atmosphere, which is almost always what builds up a solid ratio of women to men.
This review didn't impress us.
We ended up spending a total of three months on our CheekyLovers review, and we can't really say that we were that happy about it. This is a site that just really missed the mark in terms of giving us a solid number of options, and that's because the site is more or less empty. After everything we experienced here, spending all of our time sending out 140 messages to ladies on here just didn't pan out, and we were really not that happy about it at all.
From those 140 messages, we didn't get a single response, which honestly disappointed us. We knew that this site wasn't going to end up giving us a whole lot in the way of options, but even that was a little beyond our scope. We at least expected a couple of date offers.
We didn't get to meet any women after spending all the time that we did on this site, and we honestly think it's because they just don't put enough pressure on making the site a safe space for women. They don't feel comfortable here, so it's not all that surprising that they aren't going to want to stick around.
We didn't care for these features.
Spending a ton of time on different dating sites has really made it clear what makes or breaks one, and with CheekyLovers, we can say that they need to really focus on cleaning up their layout more than anything else. It just plain doesn't work, and it really has a lot of issues with being way too risque.
From the time that we spent on here, we really do think that this site also suffers from not advertising enough. We don't want ads on the site, but we do think that they need to promote more on other sites.
All of this combined creates a perfect storm of a very poorly done site. It's just not one that we can recommend, considering our results.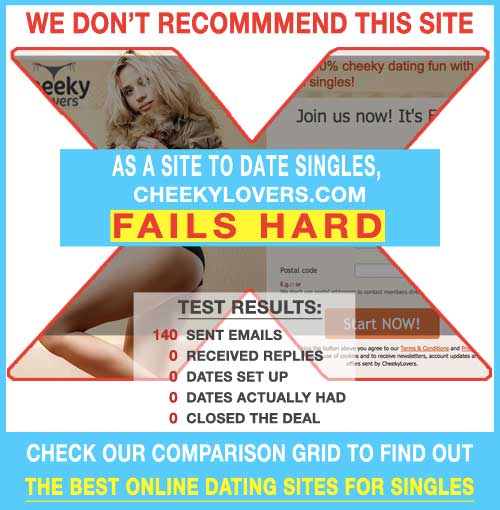 CheekyLovers just doesn't deliver as a singles dating site. To find singles dating sites that actually work, read our rankings.
You can do better than CheekyLovers.com.
With our experiences on CheekyLovers, we think that you should move on and check out other dating sites that are going to end up giving you quite a bit more. Instead of sticking around on here, check out our number one favorite site online for online dating, which is Xpress.com. We think that it can really end up giving you a great time for sure.