Flirt.com is more or less the site that we've been able to see everywhere in the span of our reviews, and that's not a compliment. This site is a dating and hookup site that really does push the idea of women being able to send messages for free…but that doesn't mean that the site is full of women. Instead, ladies don't really stick around on here, and you also get a lot of guys joining up with fake accounts to send free messages.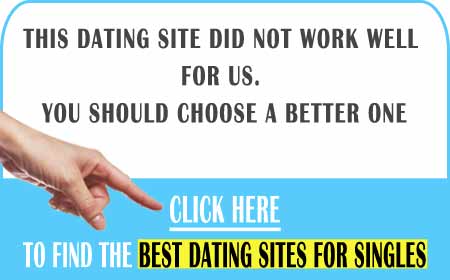 This makes the site a pretty skeevy place in our opinion, and it just doesn't come off as a very safe spot for women in general. You'll see that the layout just has a lot of attractive women posted all on it, and there's nothing for women to stare at in the meantime. Without that equal play of women and men being scantily clad on a dating site, that's just going to end up making women feel like they're wasting their time, and in our opinion, they're probably right. This site just doesn't make the mark for us, and we didn't have a great time using it.
We weren't into these results.
With our Flirt review, we were really not that pleased. This site just didn't end up hitting any of the marks that we really like to see with a dating site, and even after spending a total of three months here, we struggled to get any real responses from the ladies that were on here. Sending out a total of 140 messages didn't seem to really push the envelop either, and that's why this is a site that you probably aren't going to end up seeing a huge amount of progress with.
From those 140 messages, we weren't able to get a single response, which really told us everything that we needed to know about the quality of this site. It just plain didn't have the traffic that's necessary to make for a solid dating site, and as far as we could tell, the art of finding ladies on this site was one that's entirely lost.
Considering we didn't get any dates, that means that we didn't get any lays, either, and that's why this site is just completely useless as both a dating site and a hookup site. From our experiences, it's just not going to end up giving you the service that you want.
You can do better than these features.
This site is really basic, and that's not a compliment. A lot of sites can end up pulling off pretty basic features while still giving you what you want, but that's not going to end up being the case with Flirt.
Even if you buy a subscription, you still get the same features–you just get the ability to read the lack of messages that you'll have, and that's really not appealing to us.
Overall, this site is just empty and boring, and no amount of cash seems to be capable of changing that. This is a site that needs a massive overhaul to get among our top sites.
Flirt just doesn't deliver as a singles dating site. To find singles dating sites that actually work, read our rankings.
We didn't enjoy Flirt.com.
With all of the time that we spent on Flirt, we were really hoping to see this site turn around and work for us, but it just didn't. That's why you should be checking out our number one site instead when it comes to online dating, and that's Xpress.com. With an excellent site helping you out, you shouldn't have any issues getting the dates that you want. Just look at our results for inspiration, and you'll understand.